Water Leak Detection and Testing in Plano, TX, and Surrounding Areas
Some of the equipment that might be used would be line location equipment to be able to locate where the lines are running underground or the slab and/or several types of high powered listening devices to listen for air (that would be pumped into the water system), water and/or mixture of both escaping from the pipe through the leak.
Locating concealed fresh water leaks is a very difficult job. Many people in our industry say they can do it, but very few people can actually pinpoint a leak properly. A major key to proper leak location is having someone who does and has done many of them. The more someone does the better they will be at them. Unfortunately no one in fresh water leak detection is perfect, but the right ears and experience is the key to getting right the overwhelming majority of the time. It is important to understand that when detecting a fresh water leak usually only one leak can be found at a time. Meaning it would be necessary to find and fix one leak then re-test the system to see if there are any further leaks.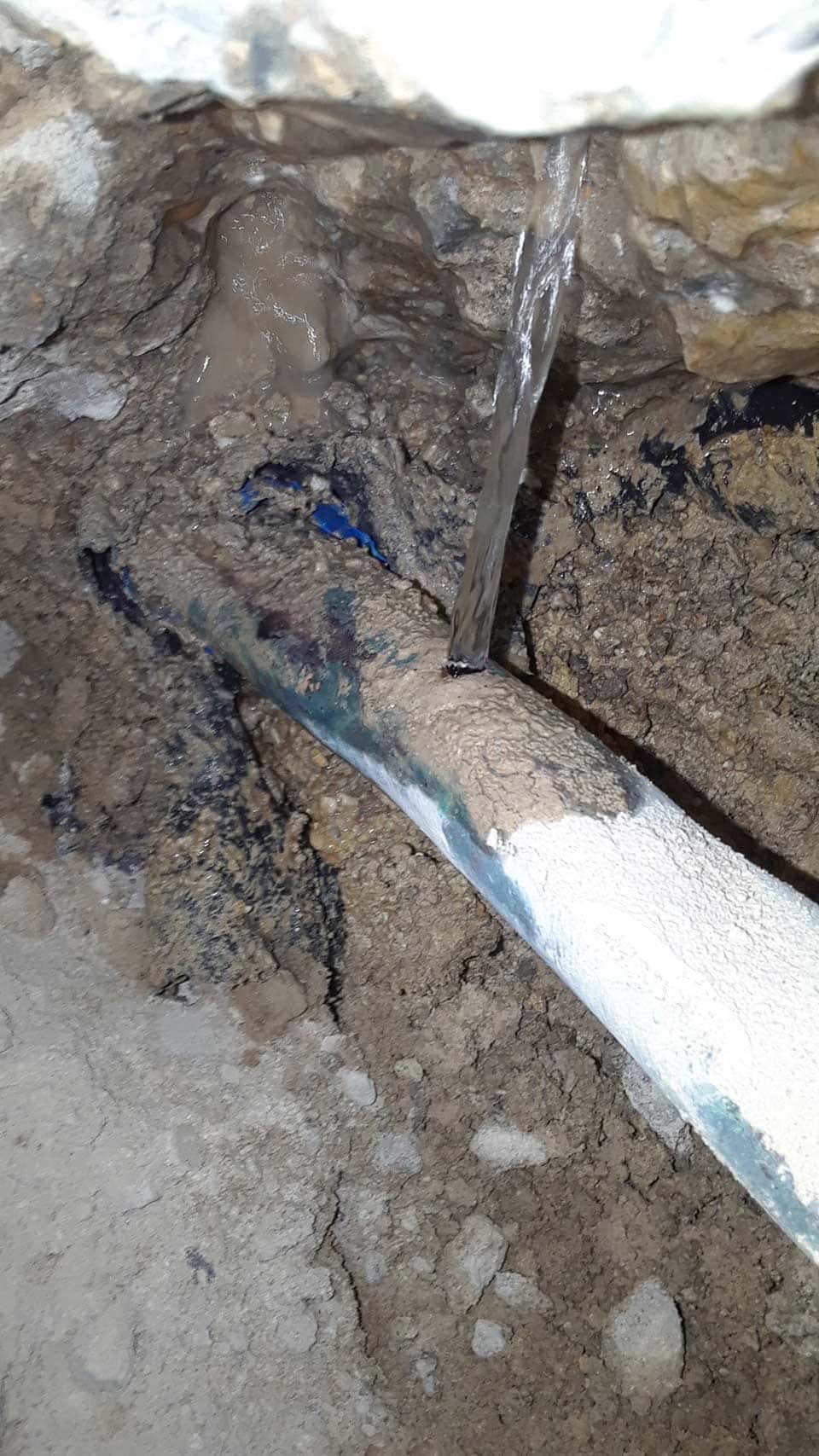 Contrary to what most people within our industry tell homeowners on a regular basis, our experience is that most homes in the north Texas area have not had and will never get a fresh water leak under a concrete slab. Also the homes that have had one leak, in our experience don't get another leak or at least have not had one yet.
However, we do believe that the homes that have had more than one leak over any period of time will very likely continue to have leaks within the system. With this in mind, in most cases we recommend whole house repiping.
Although many people in our industry highly recommend re-routing water pipes to the attic immediately when a leak is discovered, this is not something that we recommend at all. We believe re-routing should be avoided at all costs and be used only as an absolute last possible option. Putting fresh water lines in walls and attics where one leak could cause major damage to a home is in our opinion a very bad idea.
Once a leak is detected, then a repair plan can be formulated.
Some signs or symptoms that a leak may be present within your fresh water pipe plumbing system would be as follows.
A meter test utilizes the city water meter that is already in place and attached to your system in order to assess whether a leak is present or not. A meter test is a simple procedure that requires a visual assessment of the water meter in order to determine whether or not a secondary-gauge, known as a drip indicator, is moving with all of the water shut off in the home. While relatively easy to perform and designed to test the integrity of an entire fresh water plumbing system, the trained eye of a professional may be required in order to access the water meter and ensure an accurate reading can be made.
Just as effective as a meter test, a pressure gauge test involves the attachment of a purpose-built water pressure gauge to a hose bib outlet in order to assess the general state and overall integrity of a fresh water plumbing system. Often employed in circumstances where the existing meter may lack a drip indicator or where the results of a meter test may be inconclusive, a pressure gauge test can be very effective for detection the presence of a leak or similar problem.
Identifying The Source Of A Leak
Although a meter test or a pressure gauge will determine if there is a leak in the fresh water plumbing system, a more in-depth and detailed inspection using state of the art equipment and years of experience will likely be necessary in order to determine the source or location of the leak.
Hire In-House Plumbing Company to provide you with water leak detection and testing to help identify any problems with your plumbing. If you received one quote allow us to provide you with a FREE second opinion.
Need Financial
Assistance?